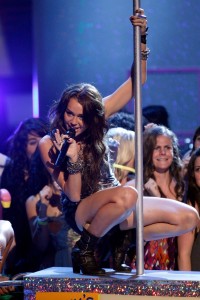 If you haven't heard already, but Miley Cyrus is in deep water from fans and haters all over the internet! This is because of the "interesting" performance at the MTV Video Music Awards this past weekend. If you haven't seen it, it is at the end of the article. After the gyrating, references to drugs and hip grinding on Robin Thicke, there was a lot of outcry as to what Papa Cyrus had thought about her performance on the VMA show. In a statement to the media, Billy Ray Cyrus said:
"Of course I'll always be here for Miley. Can't wait to see her when she gets home. She's still my little girl and I'm still her dad regardless how this circus we call show business plays out. I love her unconditionally and that will never change."
This is all sweet and all, but many people were expecting the Papa Bear to come out and send her to her room after this performance. However, she is 20 years old and has made it abundantly, sometimes a little too abundantly, clear that she is no longer the Disney kid that many fell in love with. Celebrities have come out, some to praise, some to hate, to give their two cents on her performance. The worst review came from co-star Brooke Sheilds calling Miley "desperate".
Miley has been on this spiral down for a while and it is going to be interesting to see if this is simply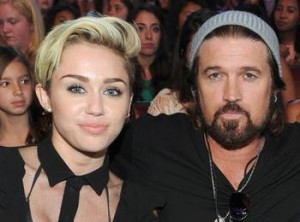 going to turn out to be a joke. Remember when Joaquin Phoenix pretended to "quit" acting to pursue he "rap career" and when it didn't work, he said "Oh it was all part of a movie." This is what many are hoping is the case with Miley and that if no one pays her any mind, she will cut the behavior out.
However, there are those who seem to like the new Miley. The Parent Television Committee, to which Billy Ray is a member of, does not like the new Miley and cited many things inappropriate of the MTV VMA's. They even pointed out, especially, the grinding and sexual gestures Miley made. It is clear even more that she is no longer the Disney Hanna Montana. Do you agree with Miley's method of "Breaking Out" of the Disney kid fasade? Most importantly, what's up with her tongue?!
Watch The Performance At Your Own Risk