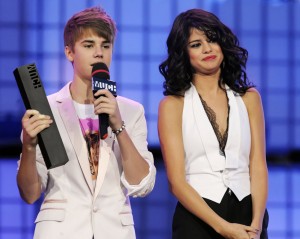 As reported by TMZ, "The Biebs" and Selena are back together. However, there is one thing that Justin will have to do first. That is to stop acting like a kid. Recently, TMZ captured video of "The Biebs" relieving himself in a mop bucket at a restaurant. This type of behavior is what Selena wants to stop. Not to mention the smoking pot, speeding in cars and being an all-around idiot. The on-off relationship these two seem to have can be quite upsetting, but with the constant apologies from Justin, it seems that Selena can forgive him again.
However, to be fair, the times that Justin is with Selena have been really good for the "Beauty and the Beat" singer. When he is with Selena, she keeps his idiocy under wraps. Some fear that Justin is headed the ways of Lindsay Lohan and Amanda Bynes in that he soon would be in rehab. However, if the relationship stays strong, and that is a BIG if, then it will prove that Selena is best for Justin and he had better treat her right.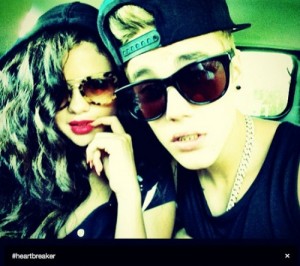 Some fans are upset with the breakups they seem to have. However, you have to think, they are just kids and that is what children do. Hopefully now Justin will be able to stop the stupid behavior and be more civilized in public. It would seem that Justin is on a downward spiral. With the news of him walking on the Blackhawk's logo while taking a picture of the Stanley Cup, the news of him urinating in a mop bucket and the countless complaints of his reckless driving, it is clear that he is simply acting out.
Some feel that Selena is perfect for Justin, but some feel it is a toxic relationship. Either way, if she can tone down Justin's behavior, it will save his career. It all goes to show that when you hang around bad influences, you act like a total idiot. There are many things that you can say about "The Biebs", but one thing is for certain, he does have good taste when it comes to women. Now, let's home this time this relationship sticks!