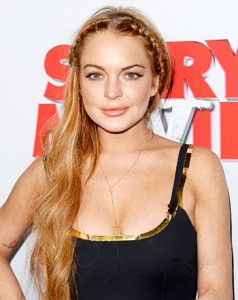 Since her completion of her mandated time in the Rehab Clinic, Lindsay Lohan has shown that she has turned over another leave, if you can believe that she still has some to turn over. There are many who can criticize, but Ms. Lohan has proven that, quite possibly, this could be the last stint in the rehab clinics. Recently, Lohan was on Chelsea Lately and was making jokes and having a great time. It is great to see that she is getting over the bad ways.
Some agree that this has to do something with her sober coach. The "Canyons" starlet is going to now do something that is a little unorthodox, but seems that it is going to be an interesting pair up. She is joining the cast of 'Eastbound & Down' alongside Kenny Powers as his illegitimate daughter. So far, the deal is unclear if this is going to be a one time thing or if there is going to be a reoccurring role for her.
The star is working hard to make sure that her career is back on track and many fans of Lohan want nothing but success for her. The reviews for "The Canyons" don't really help her reach further toward the goal, but it is going to be interesting to see if she is going to be able to land this job. In the near future, Lohan is going to take part in an eight-part miniseries about her post-rehab life.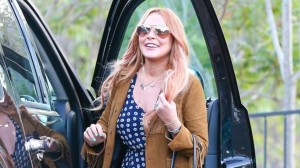 It is a great move for her because everyone is questioning if she is going to be able to keep up the success and are hoping that she won't fall off the wagon again. However, some feel that her accepting a role on a show ran by Kenny Powers, she is only hurting her chances of getting something bigger. Either way you look at it, the situation is a bit strange. There is always going to be something that is going to upset people and with Lohan, there is a big list of things that just can't be said.
'Eastward & Down' is set to premiere the fourth and final season. It seems that the show wants to go out with a bang. However, is Lindsay Lohan going to be "bang" enough for the audience. Fans are still unsure what they are going to be going into. However, with her background, it is sure to bring a smile to your face. Will you catch the final season if Lindsay Lohan is going to be in it?