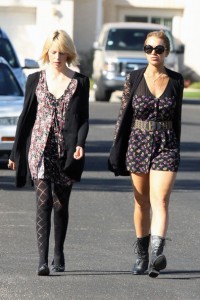 As like no one saw this happening, the child star and constant trouble maker, Lindsay Lohan, has decided that the Betty Ford Center, home to all celebrity rehab stints, wasn't good enough for her. She checked herself, voluntarily, into the Cliffside Malibu. The reason for the move was that the courts looked at Betty Ford as more of a 30-day process whereas; the Cliffside Malibu is more of a long term clinic. This comes as a shock to most people as everyone felt that Lohan was doing fine in Betty Ford since her mother, Dina, told sources that she was "doing fine".
The courts have given Lohan a 90-day sentence to rehab and with the Pacific Ocean view anf two acres of pool, meditation gardens and a professional chef, we are sure she will get the help that she needs. For a little while, it seemed that Lohan was attempting to get her life back on track. However, with the flop that was "Liz & Dick", this didn't really help to bring in positive reinforcements. Sources close to Lohan have said that she is doing great in her new place where they have called her "clear, happy and healthy". Huffington Post reports:
"After she is done with her rehab stint, Lohan is slated to appear at the Venice Film Festival on Aug. 28 for the screening of her upcoming flick "The Canyons," according to E! News. The 26-year-old still has about two more months of treatment to complete, and is expected to finish in early August."
It is clear Lohan needed some help and her fans are all hoping she can recover from this spill. With the attention Lohan is getting, negative attention is going to Dina Lohan for what Lindsay is going through right now. It is good to see that Lohan trying to get her life back on track again and hopefully she will be back to her "best self" in no time.
Some people are against what Lohan is doing saying that it is just a publicity stunt so she will be in the spotlight or that she is clearly only wanting the luxury of living. However, many people on her side have said that Lohan is serious this time around and that she is going to be able to finish this stint with confidence.