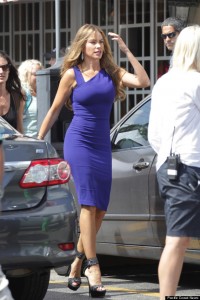 Sofia Vergara, the 'Modern Family' vixen, impressed in a tight blue dress on the set of 'Chef' over the weekend. The 41-year-old actress showed photographers that she still has it as she rocked it as she made her way down the street in Little Havana. The film, which stars Scarlett Johansson, Robert Downey Jr. and Dustin Hoffman, is set to be one to watch.
Vergara initially shared the photo of herself with her family and friends on her WhoSay page and wrote "Casa Tua family and friends dinner Miami!" It is clear that she is having fun in Miami. She has had a history of showing off her perfect curves in the right way and it is good to see that she has gotten back into it.
For a while, it was worrisome to a lot of fans of the actress that she was loosing her flare.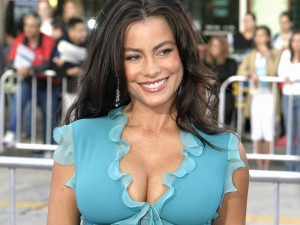 However, this pictures shows that she is still sexy as ever. "Chef" is set to be released in 2014 and follows a chef who loses his job and decides to open up a food truck. The comedy is directed by John Favreau and is distributed by Aldamisa Entertainment.
Some critics are unsure about the movie and how it is going to show on the big screen. Some are even calling it a rip-off from other films such as the film with Bradley Cooper. However, time will tell how the public perceives it. What do you think of Sophia Vergara's look? Sexy or Not?