Opening July 19, 2013 to the USA and September 27, 2013 in the UK, "Girl Most Likely" tells the tale of Imogene Duncan (Kristen Wiig), a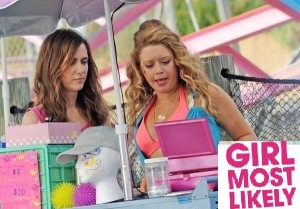 failed playwright from New York, who loses not only her career, but also her relationship. She moves back to New Jersey and stays with her mother and younger brother. With a stranger sleeping in her bedroom and another man sleeping with her mother, she works to get her life back on track. The film is rated PG-13 for sexual content and language and stars Darren Criss, Matt Dillon and Annette Bening.
This Comedy has already has already gotten some positive reviews where some critics are calling it the best comedy in years. Some even said that the film doesn't resort to crude humor and that the dialogue between the characters is fantastic. With a run time of 1 hour 43 minutes, the film is distributed by Maven Pictures and directed by Shari Springer Berman and Robert Pulcini. With the many twists and turns, many feel this could be one of the best there has been. However, time will tell how well it does in the theaters next weekend. Will you see this movie when it comes out to theaters?
Watch The Trailer Below