Opening July 12, 2013 in the USA and August 9, 2013 in the UK, "Grown Ups 2" continues the story as Lenny (Adam Sandler) goes back to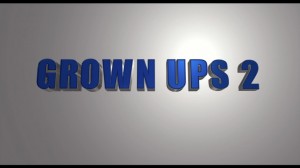 his hometown to be with his friends. However, he finds out soon that mixed with the bullies, bus drivers and party crashers, it is crazier than they thought. Directed by Dennis Dugan, the film also stars: Kevin James, Chris Rock and Salma Hayek as they reprise their roles with the rest of the cast from the first one. Rated PG-13 for crude and suggestive content, language and some male rear nudity, the Comedy runs for 1 hour 41 minutes. Distributed by Colombia Pictures, this marks the first ever sequel of an Adam Sandler/Happy Madison film.
Nick Swardson is set to replace Rob Schneider in the film. Schneider played Rob Hillard in 2010's "Grown Ups" and Swardson will be playing Rob's brother, Nick, who happens to be an alcoholic bus driver in the film. Filmed on location in Massachusetts, the film explores the deep friendship of 4 friends as they find out that they have to battle through obstacles to have fun. Despite the hiccups, the film is already getting great reviews and it seems, based on the trailer that it is going to be successful in the Box Office like its predecessor. Will you be seeing Grown Ups 2?
Watch The Trailer Below