Opening July 5, 2013 in the USA and August 30, 2013 in the UK, "Hammer of the Gods" follows Steinar (Charlie Bewley), a young Viking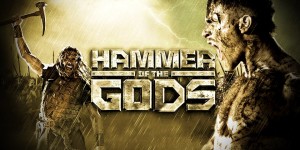 warrior, as he sent on a quest to locate his estranged brother, Hagen (Clive Standen), who was banished years ago. Along the way of his journey, Steinar, faces off against a hostile environment as he learns to be the man his father wants him to be and succeed him on the throne. Rated R for bloody violence, language including sexual references, and some nudity, the Action/Adventure has already gotten bad reviews on it. With a running time of 1 hour 35 minutes, the film also stars James Cosmo, Elliot Cowan and Glynis Barber and is directed by Farren Blackburn.
Despite the little puns in the film like "Kiss my axe", the film hopes to make up the money that was put into it. Distributed by Vertigo Films, the movie takes a look into the life of a brutal warrior trying to find his place in life. Some critics are calling this film a horrible way of telling the tale of a Viking warrior and that it has a horrible soundtrack. However, like so many things, critics can only give their opinion. Will you go see the movie when it comes out to theaters? Will it be able to survive with the other movies out this weekend?
Watch The Trailer Below