Opening July 12, 2013 in the USA and the UK, "Pacific Rim" follows a city as it is invaded by a race of aliens called "Kaiju". The humans fight back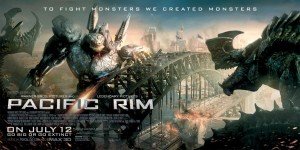 in the way of large robots that are piloted by two people to try to save their planet before they are overrun by the alien race. Called the next Transformers type of film, "Pacific Rim" is rated PG-13 for sequences of intense sci-fi action and violence throughout, and brief language. Directed by Guillermo del Toro and starring Charlie Hunnam, Idris Elba and Charlie Day, the film runs for 2 hours 11 minutes. This Action/Adventure Sci-Fi features battles and explosions and with a $180 Million budget, it is going to be an interesting ride.
Already, critics are calling the film interesting. There have been similar movies in the past, but this doesn't stop the demand for them. Distributed by Warner Bros., the action sequences are sure to be interesting and exciting. With all the hype that has been for this film, many movie goers are hoping not to be left disappointed. Based on the trailer alone, it seems like they have a shot to make it in the Top in Box Office. However, only time will tell as it is going to be released in a week. Do you think that this film is going to be able to withstand the masses or will it crash and burn?
Watch The Trailer Below