Opening July 19, 2013 in the USA and September 20, 2013 in the UK, "R.I.P.D." follows a team of dead police officers who are working for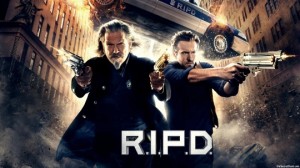 the Rest In Peace Department. Together they try to find the people responsible for their deaths and bring them to justice. Starring Ryan Reynolds, Mary-Louise Parker and Jeff Bridges, the film is directed by Robert Schwentke. The film is rated PG-13 for violence, sci-fi/fantasy action, some sensuality, and language including sex references. With a budget of $130 Million the film hopes that it will be able to live up to the other movies being released at the same time.
Distributed by Dark Horse Entertainment, the movie is a Sci-Fi/Fantasy, Adaptation, Comedy. The film also stars Kevin Bacon, Stephanie Szostak and Marisa Miller. Filmed on location in Massachusetts, the film is also known as Rest In Peace Department and critics already don't know what to make of the film. Some are even calling it a rehash of a movie that was already done. However, when in Hollywood have they not done that? Some are calling it a mesh between MIB and Reaper while others compare it to 'Dead Like Me'. Will you be catching this film when it comes out in theaters?
Watch The Trailer Below