Opening July 19, 2013 in the USA and August 2, 2013 in the UK, "The Conjuring" follows Ed and Lorraine Warren, renowned paranormal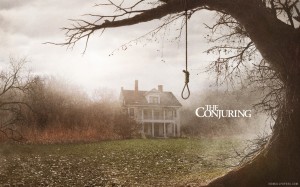 investigators, as they are called in to a family home that is haunted by a dark presence. When they come face to face with the spirit, they must do what they can to escape the evil before it consumes them. Based on a true story, the film is rated R for sequences of disturbing violence and terror. This Horror/Suspense Thriller stars Patrick Wilson, Vera Farmiga and Ron Livingston and is directed by James Wan. Distributed by Warner Bros. Pictures, the movie runs for 1 hour 52 minutes.
The film has picked up momentum since the screening at the FrightFest 2013 in the UK and critics are calling this film scary. This is a relief to most people who love to be scared at the movies. Lately the "horror films" have really not been so scary. With the release of "The Conjuring", there are surprises that keep you clinging to your significant other as you watch the film. Some critics say that the movie falls into the classics like The Exorcist and the Amityville Horror, but with a kick. Will you catch this movie when it comes to theaters?
Watch The Trailer Below