Opening July 12, 2013 in the USA for a Limited Release, "Hot Flashes" follows a unlikely basketball team made of middle-aged Texas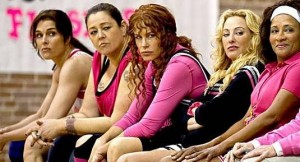 women who were champions in their glory days of high school. When they need to raise money for Breast Cancer prevention, they go head to head with the current high school champions where sparks fly as they try to prove that they are better then the young girls they are playing against. Directed by Susan Seidelman and starring Brooke Shields, Virginia Madsen and Daryl Hannah, the film is rated R for some sexual content and drug use.
Distributed by The Hot Flashes LLC, already the film has gotten good reviews. Some critics are calling this movie funny and exciting. Despite the limited release, the $4 Million budget needs to be met and many are hopeful that they may just do that and then some. With the movies coming out at the same time, some fear this film is going to be overlooked and bomb in the theaters. With a splendid cast, it is sure to have a brand of comedy that everyone can love. Will you see this movie when it comes out in theaters?
Watch The Trailer Below