Opening August 21, 2013 in the USA and the UK, "The Mortal Instruments: City of Bones" follows Clary Fray as she learns that she is a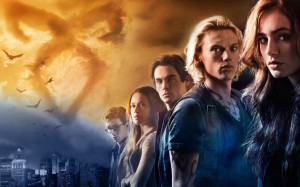 descendent of a line of warriors that are charged to protect the world from demons. She joins forces with people of the same type of ancestory and together they go to an alternate New York called Downworld. Directed by Harald Zwart and rated PG-13 for intense sequences of fantasy violence and action, and some suggestive content, the film stars Lily Collins, Jamie Campbell Bower and Jemima West.
Already critics are calling this a rip-off of "Percy Jackson", but there are many who feel that the film is going to have the desired affect on people. With a running time of 2 hours 10 minutes, it is something that you are going to have to prepare for. This Action/Adventure is distributed by Constantin Film Produktion and is based on the six novel series written by Cassandra Clare. For a summer movie, it fills the void to what little time we have left before the children are back in school. Will you be catching the movie when it comes out to theaters?
Watch The Trailer Below