Opening July 5, 2013 in the USA and August 28, 2013 in the UK, "The Way, Way Back" follows a boy named Duncan (Liam James). He is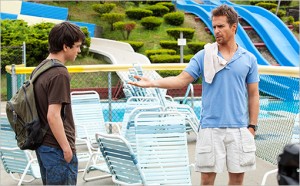 an awkward teen that is forced to deal with his mom's boyfriend, Trent (Steve Carell). When Duncan gets a job at the local Water Park, he befriends Owen, the manager and Duncan finds out who he is as he finds himself. Directed by Nat Faxon and Jim Rash and starring AnnaSophia Robb, Toni Collette and Sam Rockwell. The film is a coming of age rated PG-13 for thematic elements, language, some sexual content and brief drug material.
Already getting negative reviews, the movie runs for 1 hour 43 minutes and has a budget of $4.6 Million. Distributed by Sycamore Pictures, the Comedy/Drama hopes to captivate the audiences and keep them wanting more. Some calling the film boring and disjointed, the movie isn't getting big reviews. Mainly aimed at the teens, the film allows for them to relate to the issues the main character has to go through and makes for an interesting dialog when he meets a girl. As it happens, sometimes it is the negative ones that turn out to be the best. Will you see "The Way, Way Back" when it hits theaters next week?
Watch The Trailer Below