Opening August 23, 2013 in the USA and August 28, 2013 in the UK, "You're Next" follows the Davidson family as they are attacked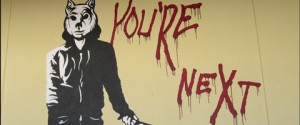 during their getaway for their wedding anniversary. A gang of mysterious killers get the upper hand until they find out that one of the kidnapped has a secret of fighting back that they find hard to deal with. Directed by Adam Wingard, the film stars Sharni Vinson, Nicholas Tucci and AJ Bowen and is rated R for strong bloody violence, language and some sexuality/nudity.
This horror is suspected to be one of those that will get you out of your seat. With a short running time of 1 hour 35 minutes, the film is already going to go down as a short film that is sure to leave you wanting more. It has gotten some mixed reviews. This means that we will have to see what is going to be good and what is going to be bad in the film. Will you catch this movie when it is released in a week?
Watch The Trailer Below