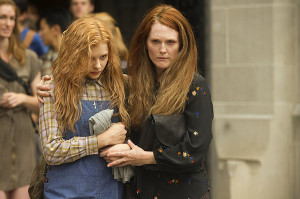 This film is a remake about the girl that is named Carrie White and she is a girl that's very shy. Her mother is very religious and she has been sheltered by her and her peers have outcasted her. She gets pushed way too far and then puts the town thru terror at senior prom night. This film is rated R and disturbed by Sony Pictures Entertainment. It has made around $35 million according to the box office.
I wasn't sure if I wanted to see the remake of Carrie because I really enjoyed the first film but I was surprised when I watched it. I thought that the movie ended up being better then the first movie. A lot of this had to do with the strong character cast. Chloe Grace Moretz as Carrie White was such a wonderful choice. She did fantastic in this movie and she could even be as to why I like the movie the better then the first one. Who knows, maybe you could still like this film even if you didn't like the first one so might be worth watching if you like Chole.
I think that this is one of those movies you will either love or hate. If you did not like the first Carrie film then chances are you might not like this one. However, when you are watching the film try not to compare it to the first one because the characters are all different and so is some of the script. I would recommend it if you did like the first one.  This is a great film to watch when you are in the mood for horror and would like to see a scary film. Watch the trailer below.