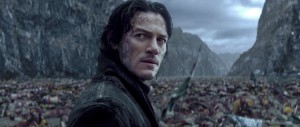 Do you remember Luke Evans from the Fast & Furious 6 and from the movie Immortals? If yes, you will be happy to know that Luke Evans stars in Dracula Untold. This is not like the classic Dracula movie. In fact, it is very different and this is why it's called Dracula Untold.
In this film Luke (Dracula) finds himself wanting to save his family and protect the world. He is willing to do whatever it takes in order to make this happen. He finds out that one way he can do this is to become Dracula. This pretty much sums up the film.
This film seemed interesting at first but in the first 30 minutes of it I lost interest in it fast. I was very disappointed in this film. Maybe I thought it was going to be a better film because of Luke being in it and just had my hopes set up to high. I think that one of the most shocking things about this film for me was I did not find it scary at all. You would think that a Dracula movie would be scary, right?
However, if you want to watch the film just to see Luke Evans in action, then go for it. While I'm disappointed in the film all together, I am not disappointed in him. Sarah Gadon looked hot herself.
Oh and this film is rated PG-13. You can take your teenagers to see it but be sure to take away their phones before the movie because it's one of those films to where teens might start texting in the middle of the film just out of boredom. Come on Hollywood; please make a better Dracula movie. It would even be great if you turned some of the classic horror movies into 3D such as Dawn of the Dead.
Check out the trailer below.
Photo Source: imdb.com