Get ready for speed as "Fast & Furious 6" makes it into the number two slot in this week's Box Office. The movie takes place after the heist with the crew getting $100 Million causing the fall of a kingpin and his empire. The crew members are living their lives spread out around the world, but Hobbs, played by Dwayne Johnson, isn't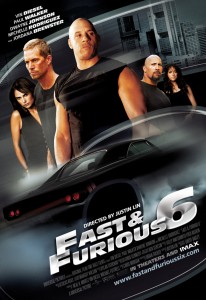 done with the action. Instead, he is working to bring down a group of mercenary drivers across 12 countries. The leader behind the group of murderers is none other than Letty, (Michelle Rodriguez) an old flame of Dominic Toretto (Vin Diesel), who was thought to be dead. With a full pardon on the line, Hobbs gets the team back together for another crime fighting mission to bring down the mercenaries. If they succeed, they will be able to come back home to their families and be able to start fresh.
Directed by Justin Lin, the film is rated PG-13 (for intense sequences of violence and action and mayhem throughout, some sexuality and language) and runs for 2 hours and 10 minutes. So, in other words, use the bathroom before this one. With it being an Action/Adventure, the film is a non-stop, action-packed thrill for those who love fast cars and furious attitudes. Distributed by Universal Pictures and grossing $202.81 Million in its 3rd week in the box office so far, it is clear that this movie isn't going anywhere, any time soon. Released on May 24, 2013 in the USA and May 17, 2013 in the UK, the movie has gathered quite a following in their six films under the franchise.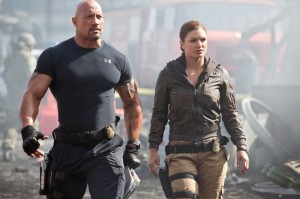 The film in itself is a good movie. Critics have said for the action alone, the film surpasses all expectations. However, there are those who feel the plot is ridiculous at parts. As many have said, the film is good, but not great. How much can you really do after six parts in a movie that is not based on a book? Harry Potter was able to achieve greatness because of the great storytelling it had from the beginning until the end.
With Fast and Furious, you have another installment of the entire same thing. With a little plot twist, the film doesn't measure up to what it should have been. However, for an action film, it is fantastic! With the fast-paced sequence of car crashes and stunts, the film lives up to the predecessors. Like always though, you be the judge.