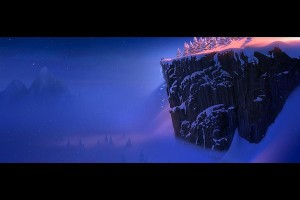 Frozen is an animated comedy adventure that is a major motion film produced by Disney. It's about a prophecy that takes place and the kingdom is trapped in winter. Anna, is one of the leaders that is optimist and fearless. She teams up with Kristoff, who is known to be a great mountain man and he also has Sven who is his reindeer. Together they go on a journey that ends up being epic in order to find Elsa who is the Snow Queen and together they try to stop the spell from happening. Along the way they encounter trolls that are mystical and Olaf, who is a snowman that ends up being very funny. They are in for the race of their lifes as they try their best to save the kingdom from getting destroyed.  This film is a must see film and one that all of the family will enjoy watching together. It is rated PG and around 1 hour and 25 minutes. It's made $93.9M according to the box office.
This is one of those films to where if you like watching 3D then this is a must see film in 3D. You will find that the 3D is not at all distracting and it makes it really fun to watch. There is a lot of comedy in this film thanks to the snowman and to the reindeer. You will find yourself laughing a lot which is another reason that makes this a great family film. I think that this will become another Disney classic that you'll find yourself watching over and over again. The only disappointment was just the villain in this film. She was good but not as good as Ursalla or Jabar. You will be amazed by the animation. It doesn't matter if you watch the movie in 3D or if you just watch it in HD the animation in it will blow you away.
Frozen is just a must see Disney film that is super cute and a lot of fun for everyone. Check out the Frozen trailer below.