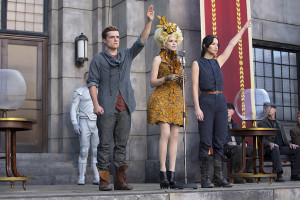 The Capitol tries to make Katniss Everdeen and Peeta Mellark targets after they successfully won the  74th Hunger Games. Winning comes with a price.  They have to turn their life around and leave their close friends plus their family and go on a "Victor's Tour" that's of the districts. When they are on this tour Katniss starts to sense that the rebellion might be simmering, however the Capitol is still in control and the 75Th Annual Hunger Games is getting prepared by President Snow and this competition changes Panem. This film is rated PG-13 and it's roughly around 146 minutes.
This film ended up being even better then the first one. I loved watching Katniss annoy President Snow and the Peace Keepers. She did a great job and so did Peeta. The violence in this film becomes existential in order for them to stay alive. There is a mixture of action, romance and drama. The film also has a lot of details that the first one did have. It might be longer then the first film but there are many reasons as to why it's longer. The film is much darker compared to the first one and things get very tense in it.
If you loved the Hunger Games then this is just a must see sequel. You will be amazed as to all of the emotions you will feel throughout the movie and might even find yourself going to see it twice because it's just so good. Watch the trailer below.