Rounding up the Top 10 in the Box Office and landing at number ten is "Iron Man 3". However, this is not a bad sign as it has amassed $399.7 Million in the 4 weeks it has been in the Box Office! The film, directed by Shane Black, draws you into the action in the 3rd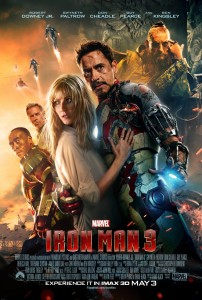 installment of the Iron Man saga. The movie follows Tony Stark (played by Robert Downey, Jr.) as he goes up against a new foe, The Mandarin (Ben Kingsley). With nothing left besides his devices, Stark races to protect those he loves before it is too late. Along the way, he answers the same question he has been trying to find answers to. "Does the man make the suit, or does the suit make the make the man?"
With a running time of 2 hours and 10 minutes packed with action scenes and phenomenal acting, this Action/Adventure Sci-Fi delivers everything you would expect from the Iron Man name. Downey, Jr. delivers a performance worthy of the fame as he is pitted against foe after foe. Since the May 3, 2013 release in the USA and April 25, 2013 in the UK, the movie has taken off. Starring Don Cheadle as James Rhodey Rhodes, Gwyneth Paltrow as Pepper Potts, Jon Favreau as Happy Hogan and Guy Pearce as Aldrich Killian, the film takes the audience on a non-stop thrill ride that everyone has been waiting for in an action film.
Some critics argue the series has run its course and that Marvel is running out of tricks. Despite some slow scenes in the movie, which are few, you hardly notice them due to the many explosions and witty lines thanks to Downey, Jr. If you are looking for an "in-your-face" action film, then Iron Man 3 is for you! You are not going to be disappointed at all when you go see the film.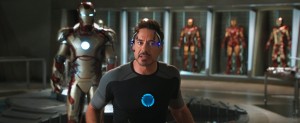 In the past years, there have been many superhero movies (Superman being the most recent) and it seems that audiences like what they see. The thought of having a superhero in these times, makes people think what could happen if this was possible. However, Iron Man alone has a lot of hidden messages that illustrate the point. Iron Man 3 is a great movie to go see with the kids as Iron Man continues to be one of the most popular of superheroes. However, as always, you be the judge.