Inappropriate humor, sexual innuendos and all around bad taste is the best way to describe the final installment of the Hangover franchise. However, what can you really expect with the group in Warner Bros. "Hangover Part III"? The film follows the Wolf Pack: Phil (Bradley Cooper), Stu (Ed Helms), Alan (Zach Galifianakis) and Doug (Justin Bartha),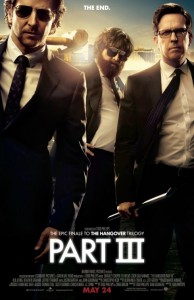 as they take Alan to finally deal with his mental problems. However, on their way to the hospital, Doug is kidnapped and they are ordered to find Mr. Chow (Ken Jeong) and give him up to the gangers he owes money to. They have only 48 hours to find him or else Doug is dead.
The film is rated R for pervasive language including sexual references, some violence and drug content, and brief graphic nudity; basically everything you'd expect in this franchise. As a Comedy, it delivers in bucketfuls, but lacks the amount as the first one. In that regards, the film was funny, but lacked the originality of it all. The first installment was hilarious due to its original nature. However, since other movies coming out with a similar feel, such as the Bachelorette and Bridesmaids, the film has lost a little of its flare and comedic genius.
Released on May 23, 2013 in the USA and May 24, 2013 in the UK, the film has grossed $102.3 Million in its 3rd week in the box office. Many critics are calling this lack-luster and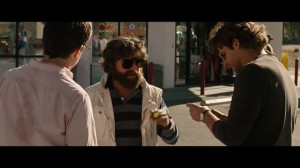 nowhere near as good as the first one. Some feel the movie was good at parts and offered a brand of comedy enough to make them laugh. However, it is quite clear that this is the end of the franchise. With a running time of 1 hour and 40 minutes, the movie gives you enough comedy to prevent you walking out of the movie, but it is safe to say that you can wait until this hits your DVD rental place.
In short, the movie isn't worth it if you are looking for any depth in a film. The inappropriate jokes and gestures alone make this a perfect movie if you are having a bad day. Many felt disappointed because of the last Hangover movie was boring and this was their chance to bring back the success of the first one. If you do see it, it is not a complete waste of your money because you will laugh and that is what you want out of a comedy, but it was lacking something and they could have done a lot more to make this a powerhouse in the box office. As always though, you be the judge.