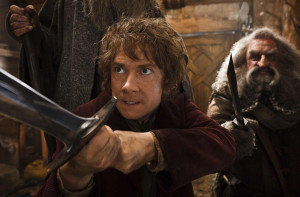 The film The Hobbit: The Desolation of Smaug is the second trilogy of the films adapting the popular series known as The Hobbit by J.R.R. Tolkien. The film is around 2 hours and 41 minutes. It has made around $73.7 million according to the box office and it's a Warner Bros motion picture.
Surprisingly, this film was extremely entertaining. It has a mixture of both thrill and adventure. It's also very humorous. The characters in the film happen to be rich and there are lots of sharp visuals in it which also makes it extremely easy to enjoy.
Some parts in the film seem to be long and drawn out. It would have been a great film with the right type of editing. It is a long film and that could have been prevented. However, the humor and just the overall enjoyment of the film makes it a great one to watch.
If you are into The Hobbit series then this is just a must see film. Check out the trailer below.