If you like movie popcorn, that is only what you are going to get if you decide to see "The Lone Ranger" in theaters. The movie that was hyped up all winter long didn't quite make it in the popularity section of the genre. Whereas time will tell how well it does in the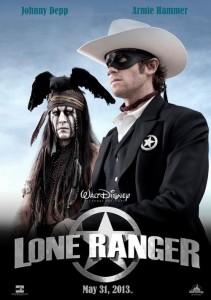 theaters, this movie isn't that good. The story follows The Lone Ranger and his trusted companion Tonto as they hand out justice where they go. The film is a retelling of the journeys Tonto had with the lawman. Directed by Gore Verbinski, the same director of the "Pirates of the Caribbean", the film runs for 2 hours 29 minutes.
Starring Johnny Depp, Armie Hammer and William Fichtner, the movie is rated PG-13 for sequences of intense action and violence, and some suggestive material and is distributed by Walt Disney Pictures. The movie as an Action/Adventure is great. I wouldn't say this is really geared to families of little ones as it has a PG-13 rating and some of the scenes can be rather frightening to the little ones. However, for those who have children 13 and over (hence the rating), it is going to be alright. So far, the critics have torn apart the film. Some calling it a Pirates of the Caribbean Goes West and dull. Some liked the movie as a whole, but there were several dragging points.
I guess you can't win them all. The movie could have done more with the character development and it is clear that the director went off the notion that everyone knew who the Lone Ranger was and the character development suffered because of it. The movie seemed like a push to make a franchise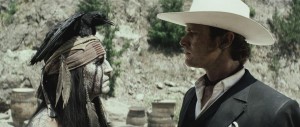 out of it like they did with Jack Sparrow, but sadly, it seems that it didn't do to well with the critics. Some critics even went as far to call the movie unlikable. Throughout the movie, it is clear that they attempted to entertain the audience thanks to the action sequences, but it failed when they tried to hard.
Overall, many hated this film whereas a few felt that the movie was entertaining and had everything that a Western should have in it. The casting is alright and each portrays their characters fine, but it is that the directing was a little half-hazard and it showed through the screen. As always though, you be the judge
.