Leave the children at home for this one, for sure! "The Purge" takes place in the not-too-distant future in the year 2022. America is at the breaking point as prisons are overcrowded and the crime rate is outrageous. When the government institutes a 12-hour period one night a year, where the people have that time to rape, murder or perform any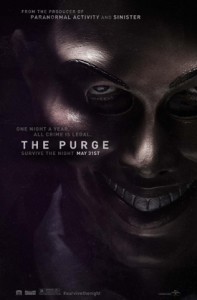 other violent act, everything seems to be going well with the government program. That is until the focus shifts to the wealthy. The Sandin family is one of those wealthy families that choose not to participate in the violent undertaking. Ethan Hawke plays James Sandin, a salesman of security system. Along with his wife, Mary (Lena Headey), daughter Zoey (Adelaide Kane) and son, Charlie (Max Burkholder), the family is safe until Charlie takes pity in a person crying for help. Without anyone to call, they become part of the ritual that is "The Purge".
Created and directed by James DeMonaco, "The Purge" is Rated R and has a running time for 1 hour and 25 minutes. This Horror/Sci-Fi thriller manages to capture the audiences' attention with its constant thrill scenes. However, most critics feel the movie seemed to have dropped the ball when it comes to a complete and deep storyline. The aim of DeMonaco was overshadowed by the political conservativeness and that it focused mainly on an Occupy-era. The film also stars Rhys Wakefield, as the ringleader of the hunters trying to kill the man inside of the Sandin residence. This was a saving grace of the film, as his performance was compelling, and rather entertaining. The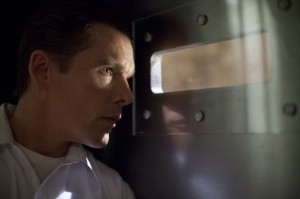 movie landed in the Top of the Box Office this week grossing $34.1 Million in the first week.
Some calling this a weak attempt to a horror film while others calling it thrilling and exciting, it is a wonder how it achieved the number one spot this week. Released in the USA on June 7, 2013 and the United Kingdom on May 31, 2013, the film explores a possibility of the eminent future for everyone. Most critics believe that, going into the film, it was exciting, but the film failed to retain the excitement and it seemed to have dragged through the plot lines with attempts to try to make a point. In short, this is not a movie worth spending money on and you are only going to be left wanting. This seems to be the trend lately with a lot of horror films and hopeful this movie is the last we will see of the epidemic that is trying to spread. However, like always, you be the judge.