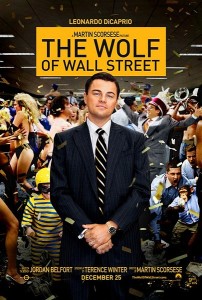 The Wolf of Wall Street is directed by Martin Scorsese and it's a Paramount Studios film. This film is about Jordan Belfort, a New York stockbroker. It has made $34.3M in the box office and it's around 2 hours and 59 minutes. The film is all about the American dream and then it's also all about the corporate greed that takes place as Belfort goes from just simple penny stocks to IPOs and all that took place in the 90s and the corruption that happened.
Leonardo DiCaprio did a great job as Belfort. The acting in it was just superb by everyone. It was funny and even though it's rather long, the film is entertaining to watch all the way. The script could use some editing in a few areas but other than that, it's entertaining. You will not only laugh hard in this film but you'll also be blown away by some of the drama that happens in it. Keep in mind that one of the points of this film is that it's all about excess for just the sake of it being excess. Once the film starts to move forward then you'll see the makings of a man who is unhappy and dark and suddenly everything about the film just becomes clear. Wealth corrupts.
This is a great film and worth watching. Due to it being rated R I would not recommend this film as a family film for all ages but more for the ones who enjoy movies about the stock brokers and the greed that can sometimes happen. Just remember, it's 2 hours and 59 minutes.  Check out the trailer below.