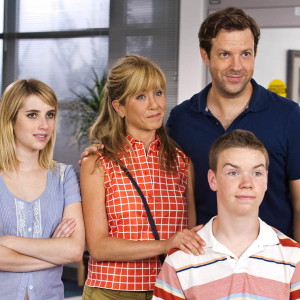 We're The Millers is a great comedy that seems to alternate between being silly and extremely funny. David (Jason Sudeikis) is involved in a lot of illegal activities and he finds himself going on a trip to Mexico that was forced upon him in order to cancel out the debt that he owes. In order for him to go into Mexico he comes up with a great idea and recruits a family that's fake. Rose (Jennifer Anniston) poses as his wife, Casey (Emma Roberts) poses as his daughter and Kenny (Will Poulter) poses as his son. Together, they all help him on the trip and pretend they are on vacation together as a family so this way the border patrol won't suspect them of any illegal activities. This film made $150.4M according to the box office. It is rated R and due to the rating and the topics, it's not suited for children and teens to watch. The film is around 1 hour and 50 minutes.
We're The Millers is so funny and if you're looking for a film that is not meant to be taken seriously then this is one you should watch. The film is rather predictable but it is also still enjoyable. It's a great film to watch when you need a good laugh. All of the characters in the film did a great job and it was also nice seeing Jennifer Anniston as Rose. We're The Millers even has some bonding family moments that happen to be very touching.
If you are in the mood for a great comedy and if you like Jennifer Anniston then this is a film worth seeing.